2021 Chevy Equinox Reviews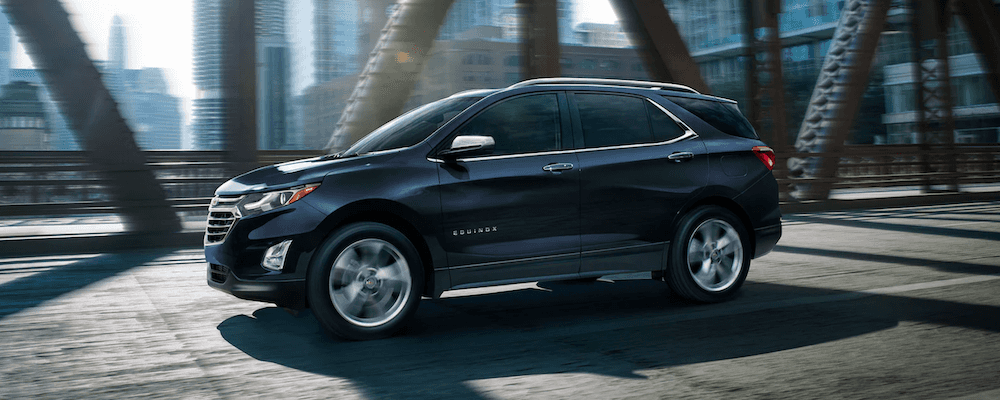 If you visit Rick Hendrick Chevrolet Norfolk in search of a small SUV that's both safe and performance-focused with endless amenities for trips to Virginia Beach, we'll probably direct you to the new Chevy Equinox. Whether you're looking for a commuter-friendly SUV or a family-oriented vehicle, the 2021 Chevy Equinox reviews showcase this model as a premier option. Check out a few highlights from the latest Chevrolet Equinox reviews below to see for yourself!
Chevrolet Equinox Reviews On Performance
The 2021 Equinox delivers an exciting driving experience in Chesapeake, achieved by a 1.5L Turbo 4-cylinder engine that generates 170 hp and 203 lb-ft of torque. Paired to a 6-speed automatic transmission, you'll enjoy seamless shifting when picking up speed. But it's not just local drivers who enjoy the behind-the-wheel experience; check out what Car and Driver and U.S. News had to say in their Chevrolet Equinox reviews:
Car and Driver: "Agreeable and easy to drive, the Equinox handles competently, and its steering is accurate and direct."
U.S. News & World Report: "A bright spot is the standard six-speed automatic transmission, which shifts smoothly."
Chevrolet Equinox Reviews On Safety
Shopping for your family? On your list of requirements, 'safety' probably trumps all else. The 2021 Equinox enables you to drive with the type of confidence that comes from a 5-star overall crash test rating from the NHTSA. From the IIHS, the 2021 Equinox earned the highest 'Good' rating on crash tests and an 'Advanced' or 'Superior' rating for accident avoidance and mitigation.
How do these safety ratings translate in Chevy Equinox reviews? Sources like Kelley Blue Book point not to the Equinox ratings, but its new standard active safety features in the Chevy Safety Assist suite as a highlight:
Kelley Blue Book: "Last year the Chevy Equinox finally caught up to the competition with its suite of standard active-safety features. Now included are automatic emergency braking, forward-collision alert, lane-departure warning, and lane-keeping assist, plus IntelliBeam automatic headlights."
Chevrolet Equinox Reviews On Infotainment
After safety and performance, the next key feature many Suffolk drivers look for in an SUV is modern entertainment options. Like its predecessor model years, the 2021 Equinox impresses with a generously equipped technology suite, centered around a 7-inch infotainment touchscreen. Here's how entertainment was received in the Chevy Equinox reviews:
U.S. News & World Report: "The base model is a good choice, especially if you're on a tighter budget. It comes standard with a well-equipped infotainment system and several active safety features."
Car and Driver: "A 7.0-inch touchscreen (or optional 8.0-inch screen) displays Chevrolet's MyLink infotainment interface atop the Equinox's dash; the system continues to impress with its ease of use and quick responses. Apple CarPlay and Android Auto compatibility are standard, as are Bluetooth phone and audio streaming, USB connectivity, and an auxiliary input jack. Standard onboard Wi-Fi makes the Equinox one of the best-connected crossovers."
Test Drive the 2021 Equinox in Norfolk
At the end of the day, the most important Chevrolet Equinox review is your own! Contact us to set up a test drive at our dealership and see how you feel when you take the wheel. In the meantime, continue your Equinox research by comparing it to the Ford Escape.
Learn More at Rick Hendrick Chevrolet Norfolk
If you're looking for an affordable vehicle that also has excellent fuel economy, then check out the Chevy Equinox at Rick Hendrick Chevrolet Norfolk. The 2022 Chevy Equinox fuel economy ratings allow you to get up to 26 mpg city and 31 mpg highway on the Virginia Beach roads. Let us show you what else this vehicle is capable…

If you're like a lot of Norfolk drivers, you like to know what the reviews say before you buy a vehicle. That's smart. However, there aren't a whole lot of 2022Chevy Trax reviews out yet, as this exciting SUV has just been released in its newest model year. However, the reviews that have come out…

The new Chevy Trax is a popular compact crossover in Virginia Beach. It strikes just the right balance of exterior maneuverability and interior flexibility. Exactly how much space will you find in the 2022 Chevy Trax interior? The cargo area maxes out at 48.4 cubic feet with the second row folded, but there's much more to…