Certified Service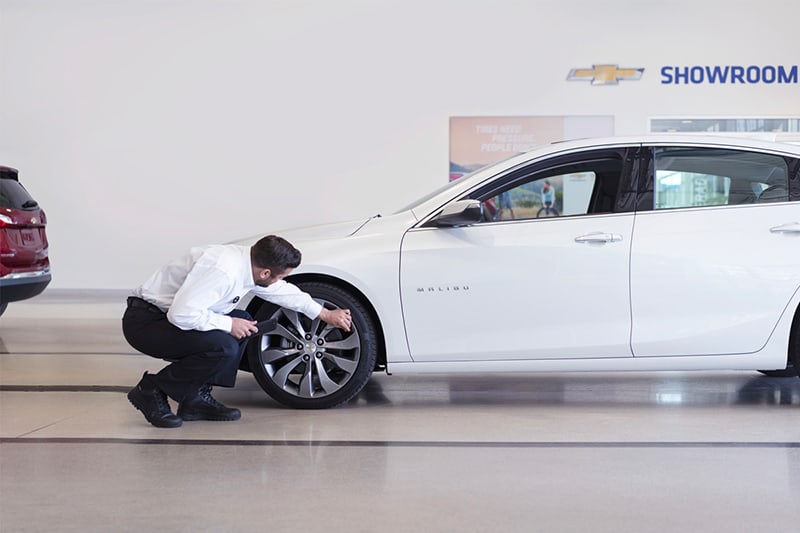 Chevy Service Center Near Virginia Beach
Searching for a trusted Chevy service center near Virginia Beach? Rick Hendrick Chevrolet Norfolk is your number one destination for essential Chevy services like oil changes, tire service, and brake service. So if you're due for routine maintenance or you're hearing an unfamiliar sound while driving in Chesapeake, schedule a service visit with us! We provide top-level auto care for all makes and models in Norfolk.
Save On Chevy Service
Affordable service is always within reach at our service center. We have helpful service offers on rotation so you can get oil changes, tire service, and more for a budget-friendly price. Check out the current offers above to learn more! If a larger repair is looming, we also provide service financing options through Ally Financial so you can pay off your repair in manageable monthly payments. Our goal is to keep you moving safely in Chesapeake!
Maintenance
Need New Tires?
Your vehicle's tires are the first and only contact with the road, so it is important to choose the right set when replacing them. Rick Hendrick Chevrolet Norfolk has Certified Service experts that will handle all of your tire needs. From managing tire wear to checking tire pressure, our team can help you keep your tires in great condition.
Find Tires
Need An Oil Change Near Norfolk?
Your vehicle may be trying to tell you something. Oil Life Monitoring Systems let you know when it's time for an oil change, and our Certified Service experts can recommend what's best for your vehicle. Schedule an appointment today.
Learn More
Multi-Point Vehicle Inspection
When you visit us for routine Chevy service, you can get a Multi-Point Vehicle Inspection to ensure your car is in good shape. With your Multi-Point Vehicle Inspection, you get a thorough assessment of your vehicle by our Certified Service experts. So protect yourself and your automotive investment with a comprehensive inspection at our Chevy service center near Chesapeake.
The Multi-Point Vehicle Inspection form uses a simple color-coded key to assess maintenance terms:
Red indicates items that need immediate attention.
Yellow indicates items that should be addressed in the near future.
Green indicates no items to address.
Hearing Brake Noise?
Stopping power is crucial to a safe and successful driving experience. When you need brake service, visit Rick Hendrick Chevrolet Norfolk and our GM Certified Service experts will recommend quality new brakes.
Learn More
Battery Trouble?
Your vehicle's battery provides energy to start the engine, plus it supplies power to accessories when the engine is not running. The cold of winter and the heat of summer can affect your auto battery. See us for your vehicle's battery needs.
Learn More
Contact Us with Your Chevy Service Questions
If your vehicle is giving you trouble in Suffolk, visit the Rick Hendrick Chevrolet Norfolk service department to diagnose and fix the issue in a timely fashion. If you have questions about the services we provide or would like to request a service quote, please fill out a contact form and our service advisors will get back to you with an in-depth answer. Additionally, you can find trusted service tips and tricks in our online information center! Check it out to learn more about oil change frequency, brake problems, and more.
Contact Service
Service: 757-916-5043
Parts: 757-916-5043
6252 E. Virginia Beach Blvd., Norfolk, VA 23502